Flowers
Flowers are the most tender and beautiful creations of nature. A flower is a nature's gift to the man to express his feelings which, at times, are too deep for words. The feelings may stem from love, appreciation, adoration, gratitude or even sorrow. Flowers, it has been rightly said, say it all.
Presented as large or small bouquets or even single entities, flowers bring joy and color into our life. Flowers can fill the environment with fragrance. Their presence brings an auspicious look to the events and the premises.
Sprays of dried flowers and grasses can be used as beautiful decoration pieces in our homes during holiday seasons or even every day. Flowers can be pressed into scrapbooks and journals. They are also used to make perfumes. Oils extracted from flowers can prove beneficial in several ailments and cosmetic applications.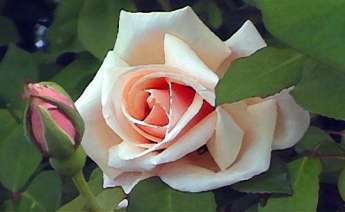 Flowers can be used to adorn various parts of our body including hair, neck, wrists and even waist. Their tenderness, color and beauty come as handy similes and metaphors to describe transience of all that is considered beautiful and glamorous. Flowers are used to describe the beauty of lips, the rosiness of cheeks and innocence of eyes and the tenderness of children. Daisies, for example, have long been used to express love, loyalty and innocence. Flowers bring smile, beauty and brightness to the wearers.
Flowers are natures' resource for providing bright golden honey.
They are the symbols of extreme purity; therefore, they are offered to gods in temples and are used in other places of worship.
They are used to describe the valor of the victors and are offered as tribute to the memory of the vanquished.
A flower is also known as a bloom or a blossom. Blossoms can be either pink or white depending upon the species or variety. Pink blossoms include nectarine blossoms, peach blossoms, most cherry blossoms and some almond blossoms. White blossoms include plum blossoms, apple blossoms, some cherry blossoms and most almond blossoms.
For a range of Flower Options please visit our Flower Catalogue